A story about eden Garden
Blind Concepts welcome you to our bespoke and unique range of Market Umbrellas by Eden Garden of Europe. Like Blind Concepts, Eden Garden take pride in delivering quality products and have done so since 1985. We admire the balance of innovative workmanship and exemplary materials used in the designs. Naturally produced to offer protection from the weather, the wide range of models are created to enhance and architecturally feature in each individual space; your space. Every umbrella is handcrafted in Eden Garden's home factory tailored to your specific needs. Our large, attractive and architecturally bespoke umbrellas will suit just about any domestic or commercial application, with one central pole we can shade up to 100 meters.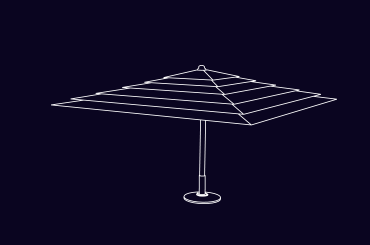 Central Post Umbrellas
The bespoke central post umbrellas encompasses 4 individual and unique models:
-Traditional Fiesole,
-The half umbrella Ciak (ideal for cafes),
-The tensioned PVC umbrella Kite,
-Our favourite, The Big Friend.
The solution for covering large outdoor space.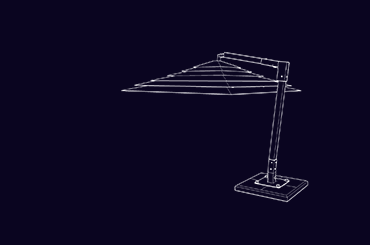 Side Post Umbrellas
These fantastic side post umbrellas are said to be the most robust outdoor umbrellas on the market today. You'll love all 4 models and an infinite number of customisation options. Strong carrier beams are made of lamellar iroko wood or robust zinc plated and plastified steel.
Reliability
These heavy duty umbrellas are crafted with the finest of materials, making them superior to all other umbrellas on the market.
Customisation
Eden Garden offer 12 different models in 50 different sizes, with hundreds of different features and colors. Every umbrella is CUSTOM MADE, following each clients' unique requests.
Long Lasting
Every Eden Garden Market Umbrella will be your perfect outdoor companion for many years to follow. Thanks to our maximum attention on final treatment, these products are meant to last decades!
Design collections
Check out the latest Vintage Collection, created with passion and love,  offering new elegant solutions for real outdoor lovers.
Our wind resistant solutions have proven their reliability in the most demanding areas:
Ancient Dubrovnik walls were the main filming location for King's Landing, a fictional city in Game of Thrones
The quality of Eden Garden workmanship, sustained by 30 years of experience and numerous patents, allows us to offer a two year* guarantee on all product components, if used in compliance with the maintenance manual and instructions for use.

All Eden Garden Umbrellas are made with thick, sturdy, long-lasting materials. 
TECHNIQUE
All the steel components are galvanised before being furnace painted in the desired colour.
CREATIVITY & CUSTOM BRANDING
We use 'Iroko' wood for the strong load bearing beams. This is the most suitable and durable wood for outdoor use. As an alternative, we also offer furnace painted steel or mirror polished stainless steel. The ribs can be made from 'American Ash' (for canopies up to 4×4 m) or from reinforced and furnace painted aluminium.
HIGH END FINISH AND MONTAGUE
Eden Garden sources  the finest quality outdoor fabrics.
Eden Garden bases are made from reinforced concrete and finished with river grit. Alternatively, we can also develop plates for underground installation, wall-mounted brackets and other customised solutions.
IROKO LUMBER
Iroko Wood, also known as African teak is a dense African timber with the properties of genuine teak. Iroko wood is tan to golden brown, durable in the outdoors, therefore opportunely used in the boating industry.  
Contact Us
Blind Concepts offers a complete range of solutions catering to all your shading requirements. From an incredible collection of blinds and awnings to installation and repair services, we are your ultimate platform. You can completely rely on us for high-quality blinds and exceptional service.
Visit Us
53 Scoresby Rd
Bayswater
VIC 3153
Contact us
03 9720 1778
info@edengardenaustralia.com.au
Open Hours
M-F: 8am - 4pm
Other showroom times by appointment